Quickly and easily purchase tickets for an upcoming event
Buying tickets online is a convenient and straightforward process. Here's a step-by-step guide to help you secure your spot:
Step 1: Access the Event Website
Start by navigating to the official event website. By clicking an external link provided by the event organizer, an advertisement, or by email you'll be directed to a Tournkey event page to begin your purchase process.
Step 2: Event Details
On this page, you can find all the necessary information about the event and more specifically the ticket purchase options. Explore the event website to gather information about the date, time, venue, and information provided by the organizer. Make sure you have all the details you need before proceeding.
Step 3: View Event Tickets
On the event's website, locate the "Tickets".



Click on it to access your ticket options.
Step 4: Quickly search for your preferred ticket
Filters located at the top of this screen will help you navigate the ticket options quickly.



Step 5: Choose Ticket Type and Quantity
Once you've found the ticket you'd like to purchase select the number of tickets you wish to purchase.



Step 6: Ticket Type Selection (if applicable)
If the event offers assigned seating, you may need to choose specific seats from a seating chart. Some events have a "Best Available" option that automatically assigns seats for you.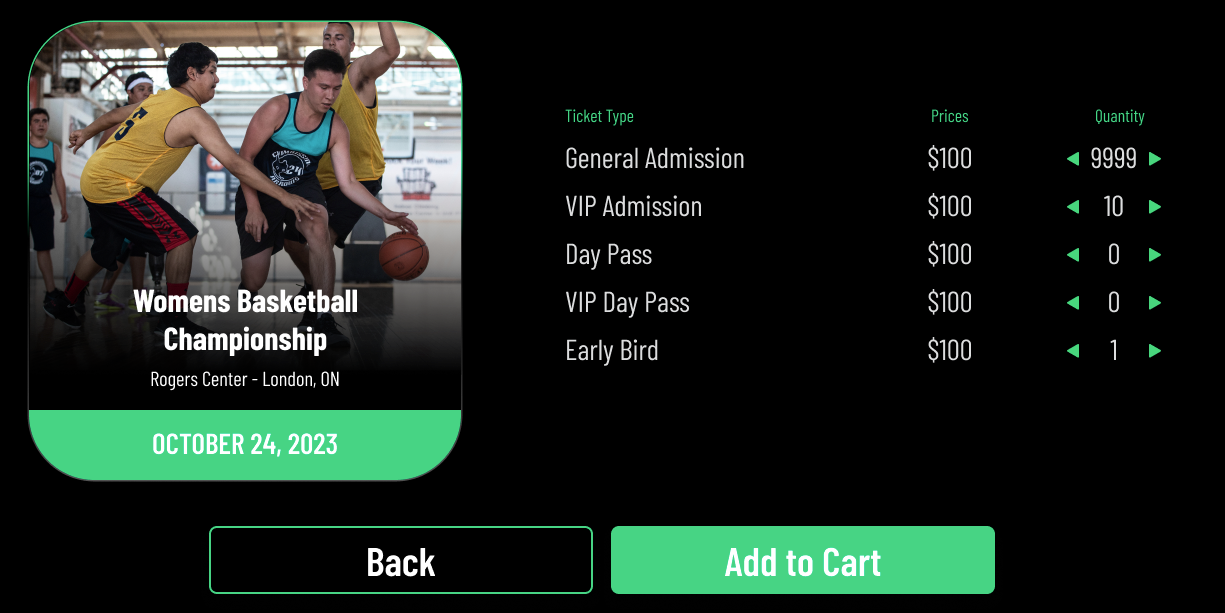 Step 7: Add to Cart
After selecting your ticket type and quantity, click the "Add to Cart" button.
Step 8: Review and Confirm
Review your ticket selection in your shopping cart. Make sure you have the correct ticket type, quantity, and seating area (if applicable). Confirm that the event details are accurate.
Step 9: Checkout
Proceed to the checkout page. You will need to provide your contact information, billing details, and payment method. Ensure that all the information is accurate and complete.
Step 10: Payment
Enter your payment information (credit card details, PayPal, etc.) securely on the payment page and follow the prompts to complete the transaction.
Step 11: Confirmation
After successful payment, you should receive a confirmation email or a digital ticket. Save this confirmation for your records; it will serve as your ticket to the event.
Step 12: Attend the Event
On the day of the event, bring either a printed copy or a digital version of your ticket and any identification that may be required.

If you encounter any issues during the ticket-buying process or have specific questions related to this event, be sure to check the event's FAQ section or contact their customer support for assistance.